Biography
Hughes Maréchal composed more than 80 film original soundtracks, with inspiration reflecting his interest and passion for a large spectrum of music. His long experience as a silent movie pianist allows him to quickly adapt to and grasp a film's rhythm and emotional intensity.
He can also rely on his extended experience with multiple instruments and time as a studio musician.
With a vivid interest in acoustic music, he enjoys the hypnotic power of atmospheric music, the lyricism and poetry that music can convey. Since the beginning of his career, Hughes has always viewed the job as a dialogue between the musician and the director (as well as the movie editor and sound ingeneer and designer) working together to serve the film. Music only has meaning if it brings an additional dimension to the visual one.
Hughes Maréchal has also developed a proven voice coaching method for actors who need to use their voices for singing or simply strengthening vocal capacity.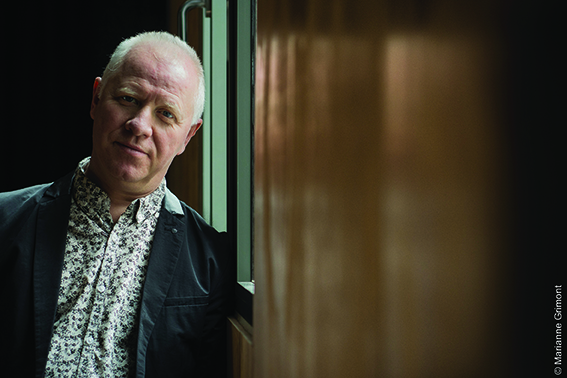 Hughes Maréchal
freehughesmusic@gmail.com
www.hughesmarechal.com
Sabena Forever de Marianne Klaric, image création 2023
Motherless Child de Sophie Maréchal, Luna Films 2023
I'm Chance de Marc-Henri Wajnberg 2022 avec David Linx et Kokoko
S'envole la mort  d'Isabelle Françaix 2022
Silencieuses de Claude François 2021
Zénon l'insoumis de Françoise Levie (2019) Image-création
La fine équipe de Ismaël Saïdi
Le Marquis de Wavrin, Luc Plantier, Grace Winter, 2017
Music collections , Hachette, Paris, 2009-2017
Bouton de Nacre de Patricio Guzmann, Silver Bear Berlin, 2015
Quand je serai Dictateur, de Yaël André Morituri, Arte 2013-2014
Amsterdam Stories USA, Rob Rombout/Rogier Van Eck Saga Films 2012/2013
Léopold III, mon père Nicolas Delvaux RTBF 2011
Kaléidoscope serie, 23 episodes (2001-2005) Wajnbrosse/Arte
Niemeyer, an architect commited to his century Marc-Henri Wajnberg (Wajnbrosse) 2000
Amsterdam Via Amsterdam  Rob Rombout & Rogier Van Eck (Asap) 1999
Sabam Awards 2014 film music for Quand je serai Dictateur, de Yaël André, Magritte Award best documentary 2015